Argonaut RM3
By Richard Crowley
---
As eccentric IPO purchases go, a dream bike is a pretty responsible one (he justifies, mostly to himself). I found myself in just that fortunate position making just that eccentric purchase in the summer of 2019. This is how it went.
The frame came first because on this bike it's allowed to dictate whatever decisions it wants. I thought I knew what I wanted. Before I put down the deposit, though, I needed to know the extent of my options to convince myself my dream was worthy of turning into reality. So I asked the encyclopedic hive mind of the San Francisco Cycling Club.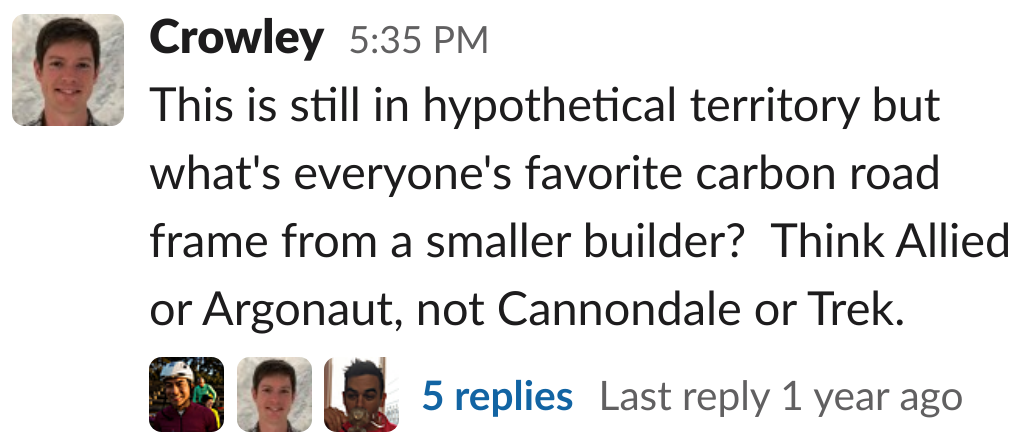 They dutifully expanded my horizons but nothing sparked joy. This seems obvious in hindsight: It can't be a dream bike if you haven't known it exists long enough to dream about it. Argonaut remained my choice. Just to be sure, though, I made one final attempt to goad someone into selling me on an alternative.


But they're enablers, to a person. And who doesn't want an Argonaut?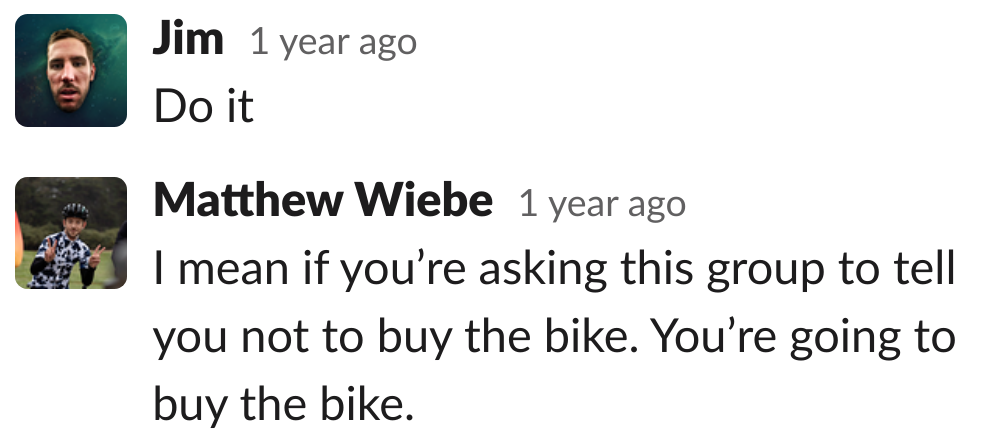 OK, so we're doing this. I made a detour to 3D Bike Fit to get dialed and get told to stretch, then I contacted Argonaut.
On the phone, Ben Farver offered me two paths. I could have the Argonaut road bike on the website or I could wait until April and be one of the first people riding their new model. It was October 3, 2019. He went on at some length about new carbon fiber fabrication techniques, internal cable routing starting at the stem, clearance for 35mm tires, and custom tooling that obviated the need for their clever and functional but eyebrow-raising rivet. He was excited. I became excited. It would be a fun April.
I wasted no time starting a spreadsheet, as one does. In the past, making these spreadsheets has been easy; the stakes have been lower. But this was a dream bike. Research was in order. It had to be right.
I paced my research with an eye towards purchasing all the parts in March and April. Then the novel coronavirus or covid or covid-19 or COVID-19 struck and before we even decided what to call it the supply chain for small manufacturers was laid to waste. Argonaut were the first to acknowledge the problem, with some of their Italian-made testing gear in limbo, but they were far from the only folks impacted. Anyone without warehoused inventory took a six-week hiatus. Europeans stopped even answering their email for a time. Eventually, though, everything arrived.
Argonaut got their testing gear, kept testing, kept tweaking, and kept delaying until they got it right. April became May became ??? became December. Those six-week delays sourcing some parts were distant memories. At times, I must admit, I completely forgot I had a build on the horizon. Then I remembered and excitement bubbled over. I love building bicycles from boxes of parts almost as much as I love riding them.
Today is December 4, 2020. My frame's expected to ship in a week. I'm the dog who's about to catch the car. And because I enjoyed reading Jess's Indy Fab, Jim's chronicle of building his wife's Crown Jewel, I'm going to document my Argonaut RM3 build here as I assemble it. Read, ride, refresh.
---
— My frameset hasn't shipped yet but I still want to wrench. Today's topic: Wheels and the bits attached to them. Wheels were the single toughest choice. Limited by my inability to build my own wheels, certain hub and rim combinations were out of reach. I wanted a very wide rim to mate nicely with the wide tires the frame can clear and this felt like the right time to expand my tubeless repertoire into tires less than two inches wide. Unfortunately, a great many such rims are hookless and that, to use the technical term, freaks me the fuck out. Concerning hubs: I like ratchet designs for completely emotional and irrelevant reasons.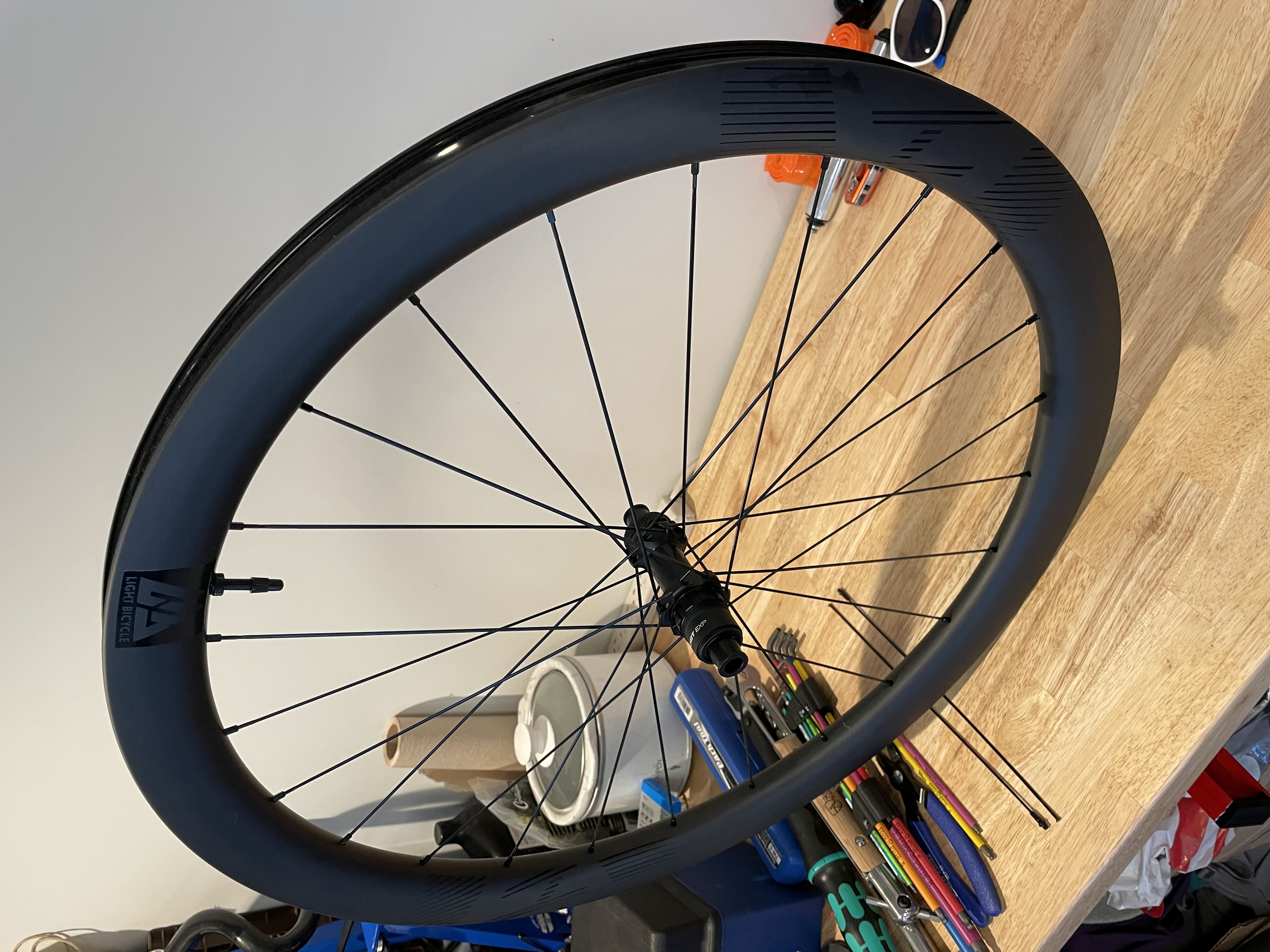 In the end, Light Bicycle won. Their rims have a strong reputation even among mountain bikers and they make a 25mm wide, hooked, tubeless-compatible rim for an absolute knockout price. Along the way I looked at DT Swiss, Enve, Hunt, Knight, Reynolds, Santa Cruz, Zipp, and probably others. Hunt were probably second place. Everyone but Light Bicycle failed to meet one or more of the width, hook, or ratchet goals.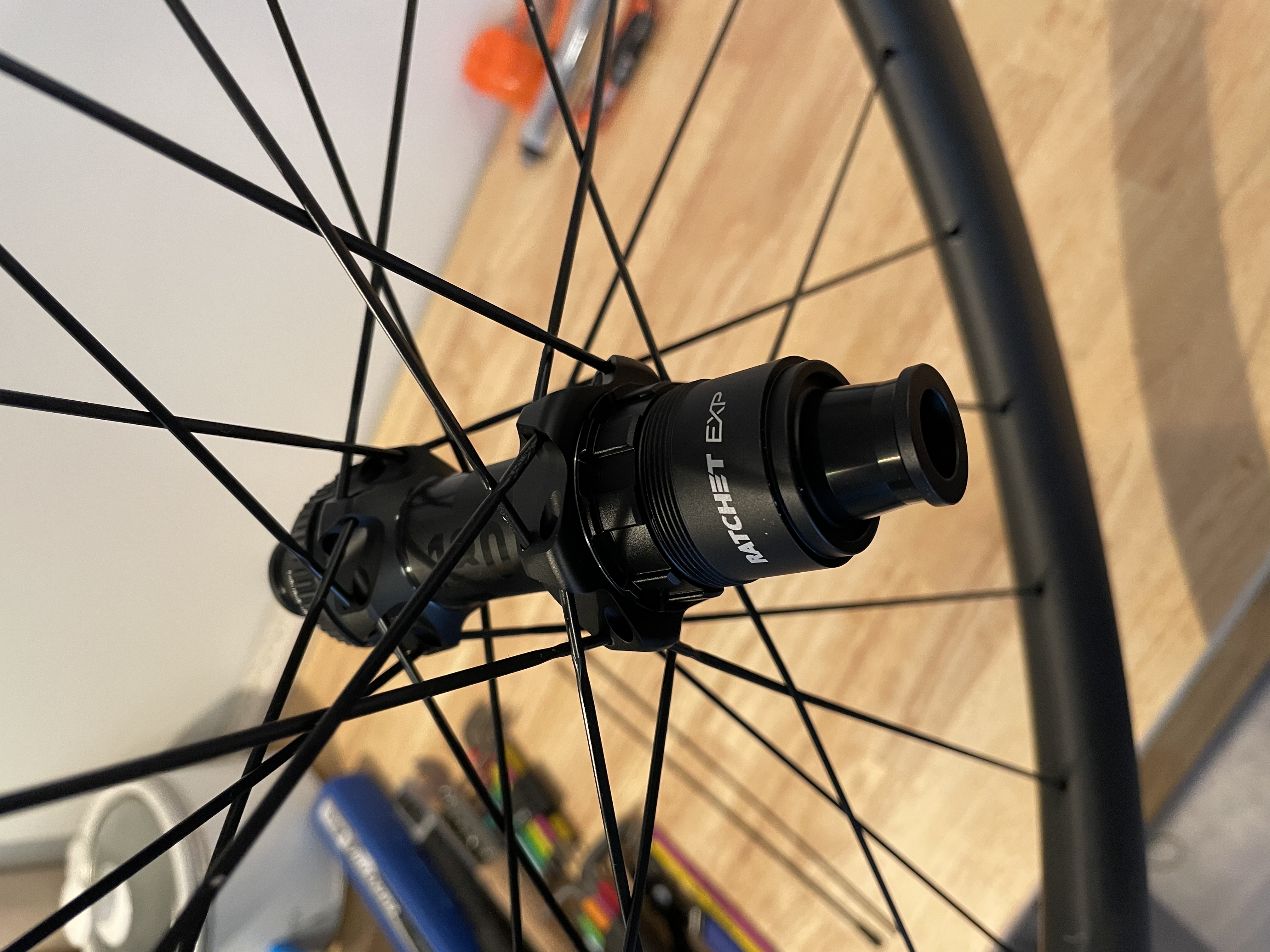 My usual hub choice would've been Chris King, if for no other reason than I'm getting fairly good at maintaining them, but the XDR driver I would need to run SRAM Red AXS wasn't available. And, since the rims felt like a bargain, and the XDR freehub was there for the taking, I decided to try the not-oft-seen DT Swiss 180. Why not?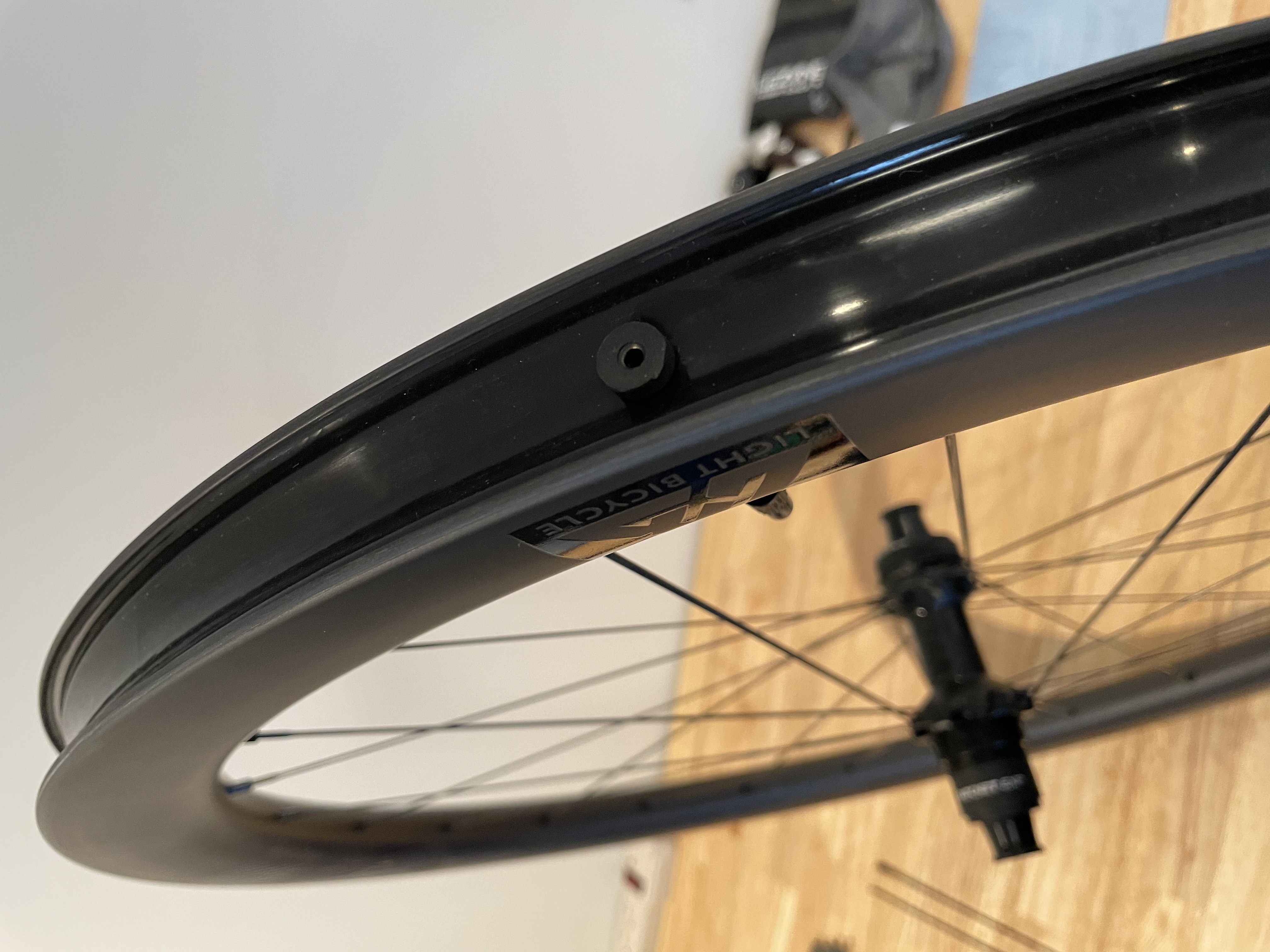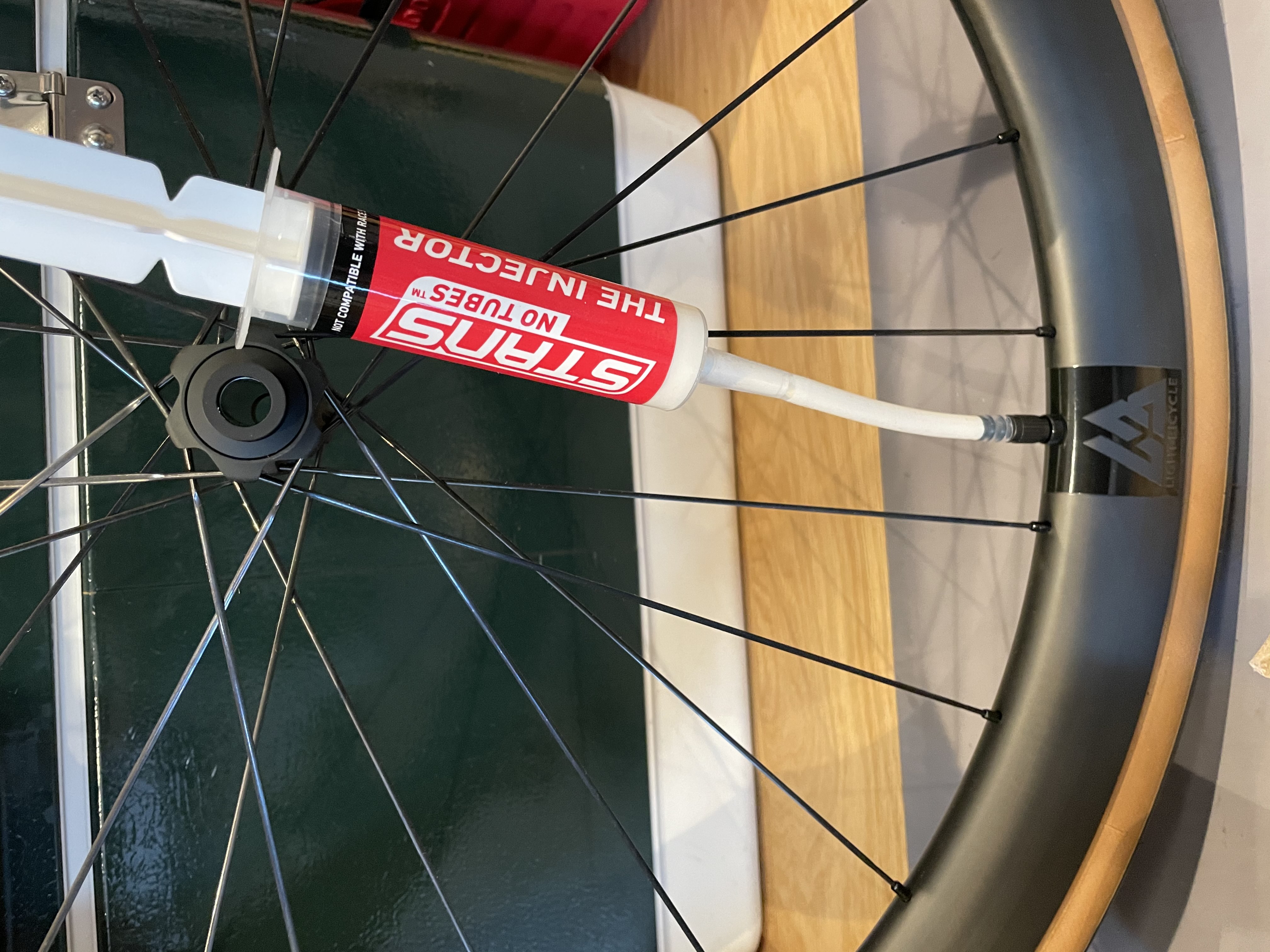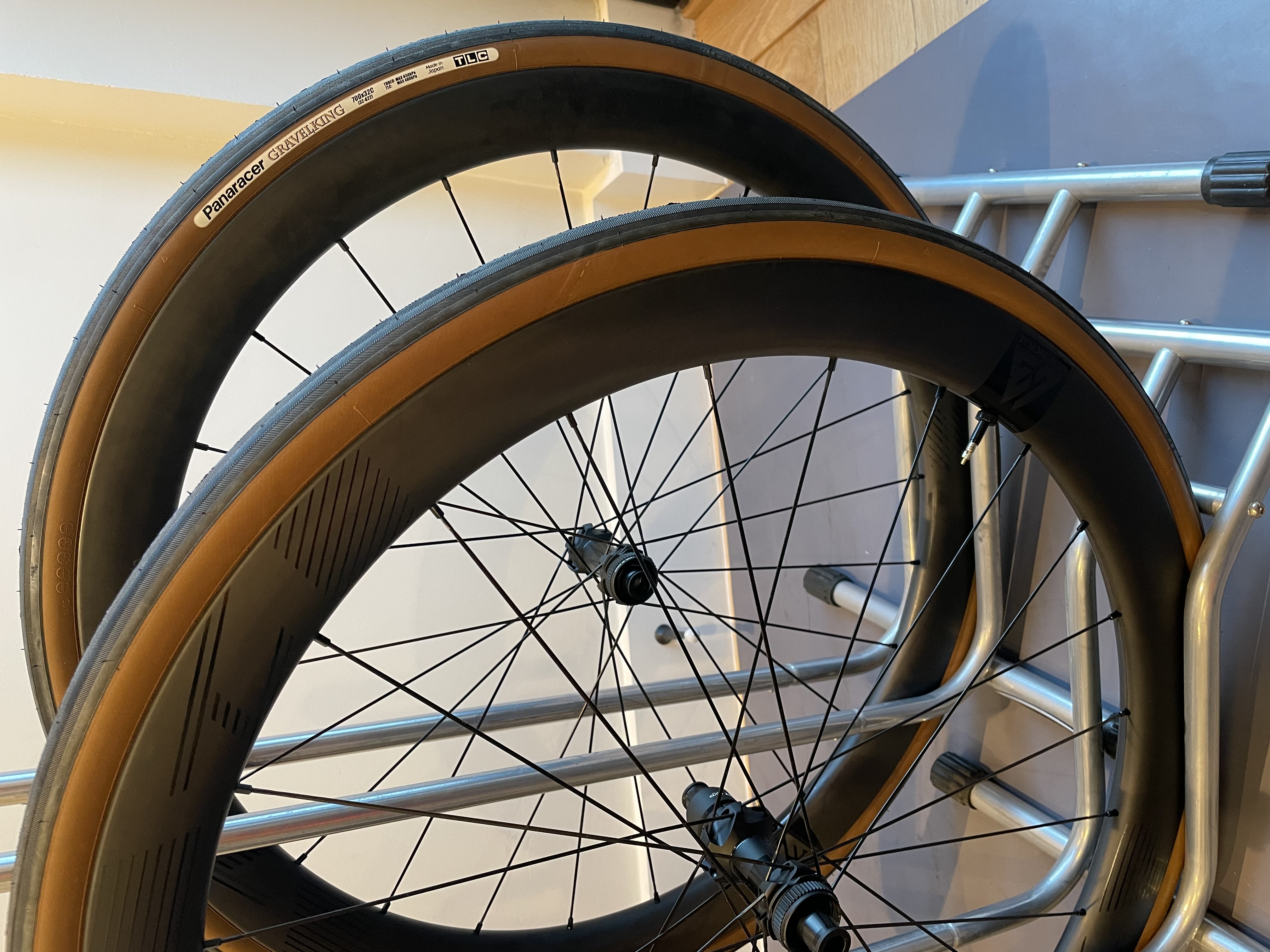 They came straight from the factory with an absolutely flawless tubeless prep. Bravo! I made the ceremonial mess with sealant once, then I got my act together and mounted the tires without further fuss. I chose 32mm Panaracer GravelKings because they have a bit of puncture protection and a nearly smooth tread which will go nicely with the mostly-road-but-I'm-actually-going-wherever-the-hell-I-want vibe I want this bike to have.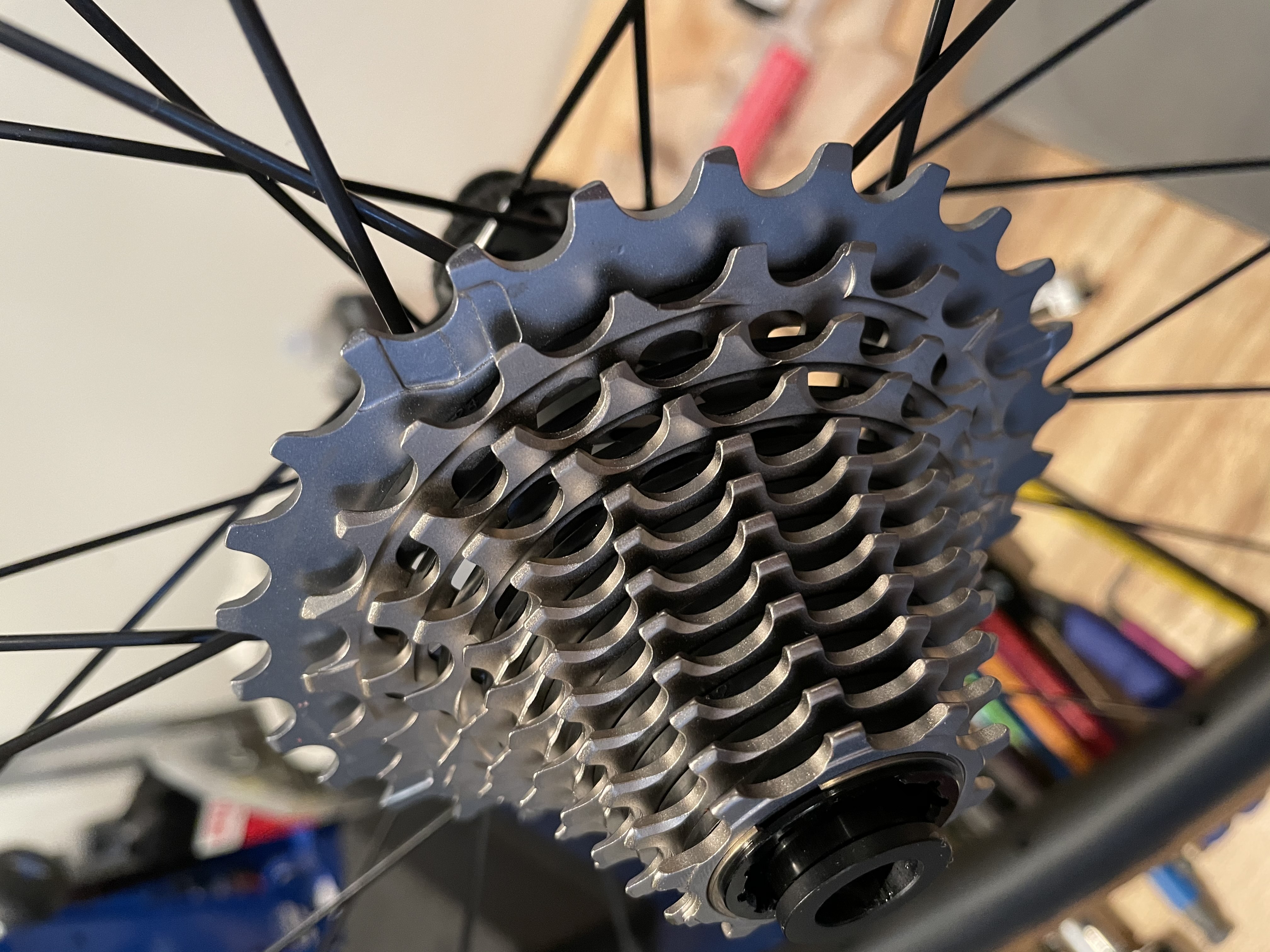 I chose SRAM Red AXS because I've had a great experience with SRAM Red eTap, am proficient with their hydraulic bleed procedure, and am intimidated by Di2. I'll have more to say about the groupset later. For now, I just want to declare that the 12-speed Red cassette is beautiful and feels incredibly well-made.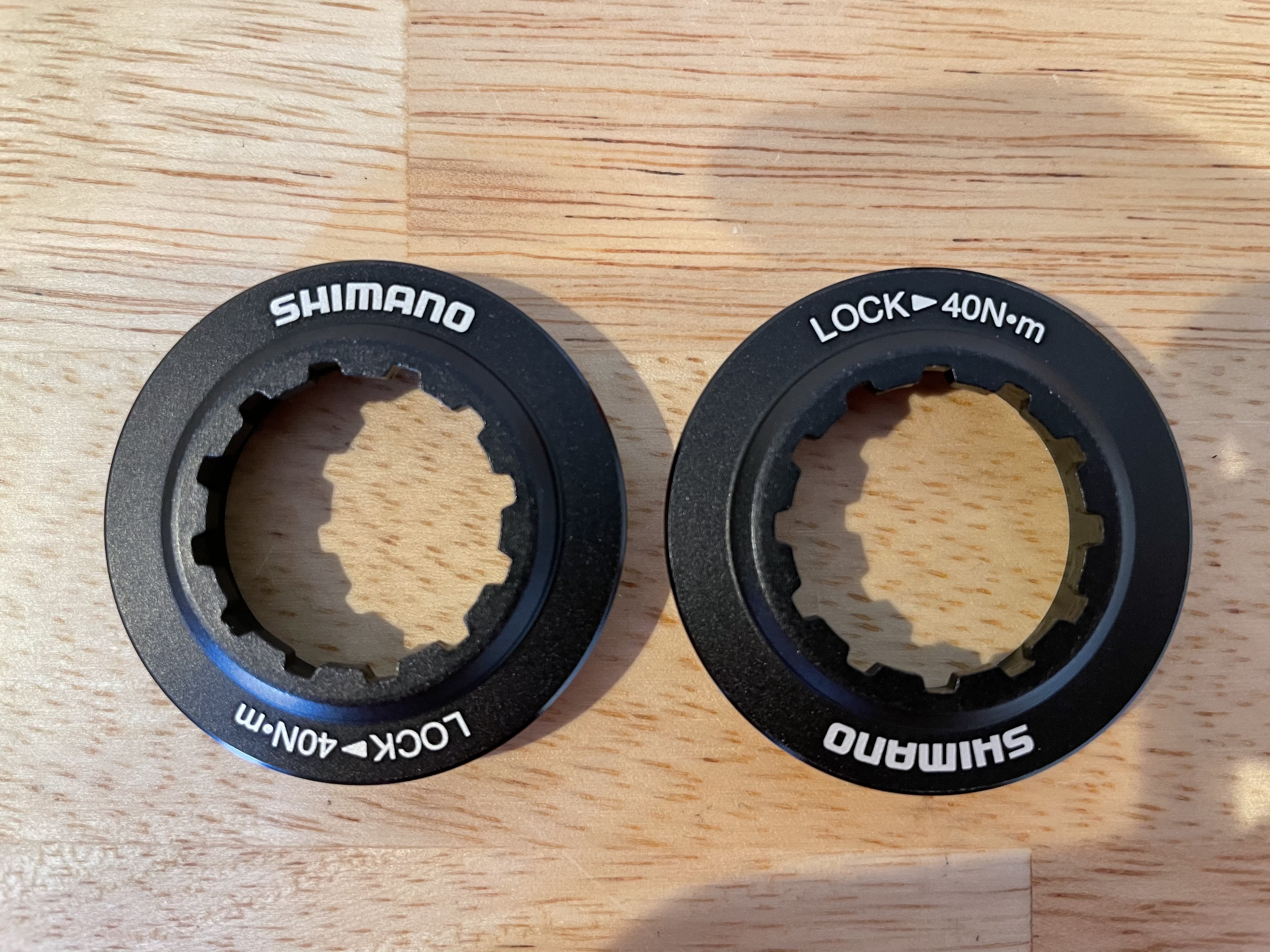 SRAM isn't without warts, though. It's frustrating that SRAM makes centerlock rotors but pretends the lockrings don't exist. Seems Shimano's cornered the market on this one. (Serves them right for inventing the standard, I guess.) For those keeping score, centerlock lockrings are (so far) the only part I forgot to account for in my spreadsheet.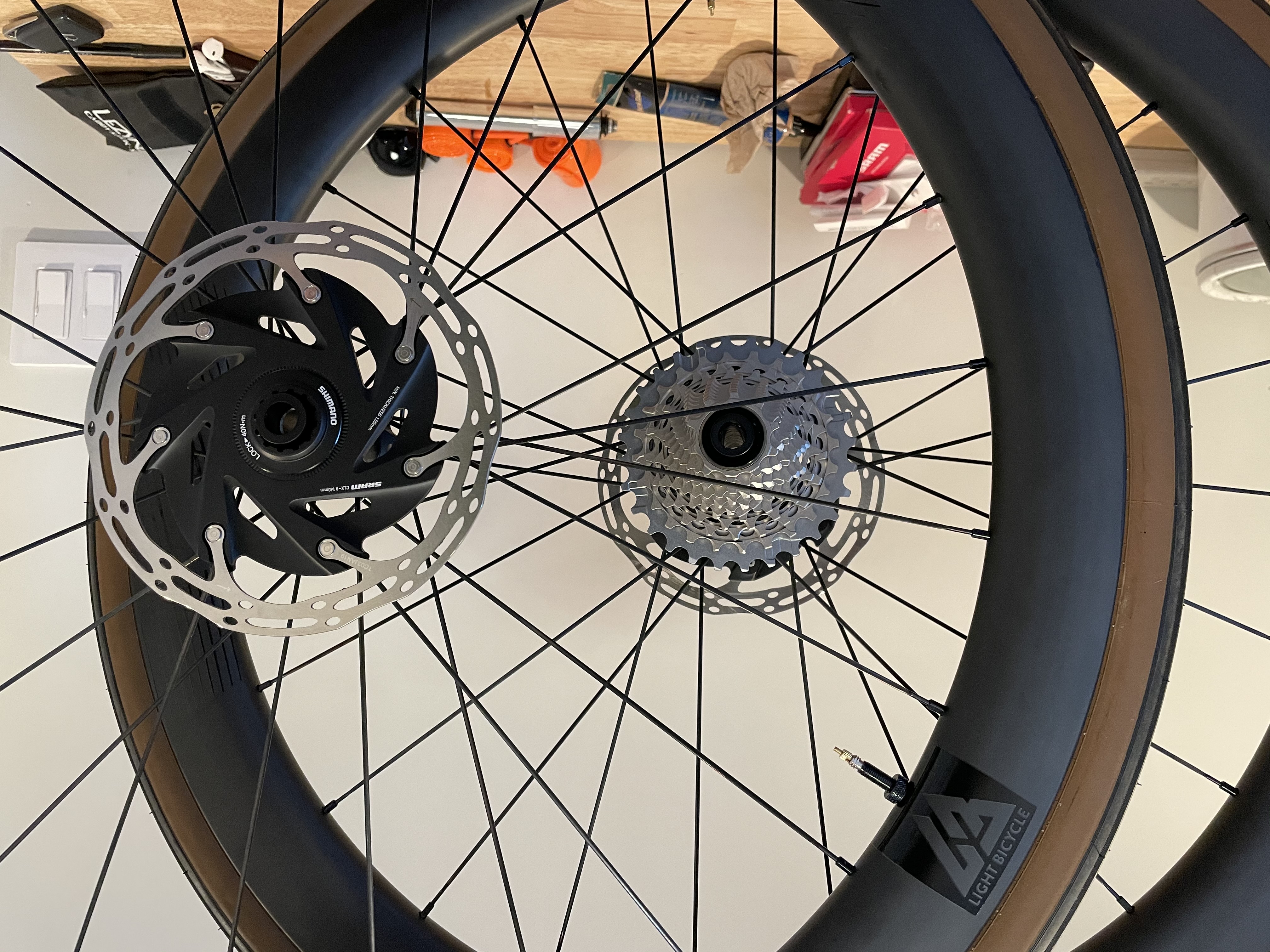 I made the boring, safe choice of SRAM Centerline XR rotors over more aesthetically appealing and utterly roastable offerings from manufacturers selling to the weight-weenie crowd. I don't think I'll actually regret this but the choice feels flat and uninspired.
That's a sour note to end on but I'm just about out of parts that I can fasten together. Depending on when the frameset ships, the next installment will either be about the frameset or the crankset.